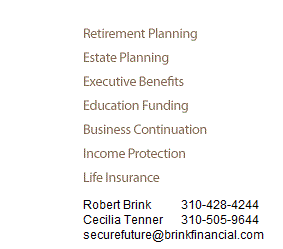 Live Life on Your Terms. Today and Tomorrow.
Often, when people look into their financial future, they see questions and uncertainty: Will I have enough money  for retirement? Can I maintain my lifestyle and still fulfill my dreams for those closest to me? What about unforeseen illness? Will estate and inheritance taxes threaten my personal or business assets? If your tomorrow seems too uncertain, let the Brink Financial Group help you plan today.
Securing Futures Since 1987
We are an experienced, service-oriented financial planning firm that specializes in the protection of income, wealth preservation, and the transfer of wealth to future generations. Since 1987 the Brink Financial Group has enabled people from all walks of life to envision and realize their financial hopes and dreams. We offer a comprehensive array of retirement, college planning, and estate planning services that can be tailored to fit your unique goals and circumstances — even working and living abroad.